Blepharoplasty (Eyelid Surgery)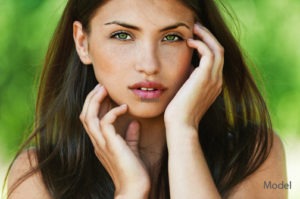 In the human body, the eyes are the most delicate external organ. For this reason, any plastic surgery associated with the eyes should only be undertaken by a highly trained and experienced surgeon with specialization in eye procedures. It is safer to work with a surgeon who is renowned for performing eye surgeries.
Oculoplastic surgeon Dr. Tanya Khan offers cutting edge procedures to her patients. She uses the most advanced and proven surgical techniques to accomplish safe, sustainable, and highly desirable outcomes.
Board certified ophthalmologist Dr. Tanya Khan provides upper and lower eyelid lift to patients in Plano, Dallas, Texas, and surrounding locations.
Why Select an Oculoplastic Surgeon?
People seeking eyelid surgery or other procedures related to the eye should ideally work with an oculoplastic surgeon for safe and predictable outcomes.
An oculoplastic surgeon would have completed three years of residency training in Ophthalmology as well as an extra two years of fellowship training in Ophthalmic Plastic and Reconstructive Surgery (Oculoplastics).
This specialized skill set enables the surgeon to accomplish excellent aesthetic and functional results. An oculoplastic surgeon will have an in-depth understanding of the subtle structure of the eye as well as the complexities of eyelid surgery.
Experience
It is vital for the patient to work with a surgeon who has specialized training. But it is equally important to understand whether the surgeon has adequate experience in eyelid lift surgery.
If the patient is seeking a specific type of eyelid lift or desires additional procedures such as a brow lift, they should work with a cosmetic surgeon who has experience in these specific procedures.
Desirable Qualities of an Eyelid Surgeon
Easy to talk to, warm, compassionate

Inclined to educating the patient on the procedure in detail

Passionate about the idea of making a positive change in the patient's life through plastic surgery

Offers customized care and attention to each patient

Ability to comprehend the cosmetic needs, desires, hopes, and aspirations of the patient
Has a detailed understanding of the eye and face structure

Possesses artistic sensibilities with a sense of form, balance, and proportion

Uses advanced techniques to ensure that the eyelid surgery is minimally invasive and leads to as little scarring as possible
Focus on Personalization and Innovation
Each person has unique facial features, which make it vital for the surgeon to individualize the procedure according to the unique anatomical and cosmetic needs of the patient. Patients achieve the highest rates of satisfaction when the procedure is customized to develop more complete and natural outcomes.
Plastic surgeons who focus on routinely upgrading their knowledge and skills set and informing themselves on the latest surgical techniques and cutting-edge technologies typically provide their patients with an excellent outcome.
Balancing Science and Art
A skilled plastic surgeon will combine the tenets of both science and art to develop natural-looking and sustainable results in blepharoplasty surgery. They will take into account aspects of eye proportion and symmetry to develop appealing outcomes.
Committed oculoplastic and reconstructive surgeon Dr. Tanya Khan receives patients from Plano, Dallas, Texas, and nearby areas for blepharoplasty.
Contact Khan Eyelid and Facial Aesthetics and Oculoplastic & Reconstructive Surgeon Dr. Tanya Khan Today to Schedule an Appointment
For more information about procedures and treatments at Khan Eyelid and Facial Aesthetics by Ophthalmic surgeon Dr. Tanya Khan. Click here to contact us.
Taking patients from in and around Dallas, Plano, Fort Worth, Grapevine, Garland, Mesquite, Carrollton, Irving, Frisco, Texas and more.