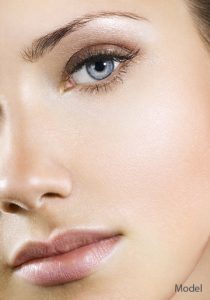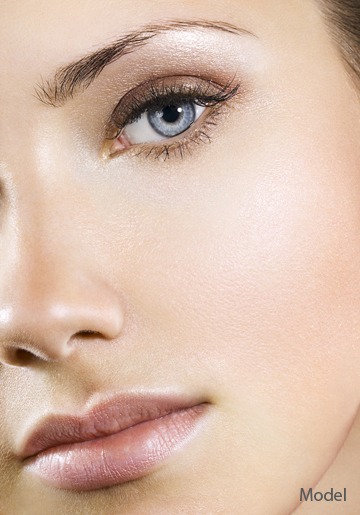 The tear trough is an area between the lower eyelid and the cheek. Volume loss occurs in the area with age, which causes under-eye hollows, dark circles, and eye bags. Effective tear trough treatment involves injecting dermal filler into the area to restore lost volume and reduce the appearance of hollows and dark circles. 
Khan Eyelid and Facial Aesthetics, led by oculoplastic and reconstructive surgeon Dr. Tanya Khan, provides dermal fillers for tear troughs to patients in Plano, Dallas, Texas, and surrounding communities. 
Choosing Tear Trough Fillers
Volume occurs in the under-eye region with age. This results in thinning skin, wrinkles, dark circles, and under-eye hollows, which can make you look tired. Many patients experience this as early as in their late twenties. Tear trough concerns can result in a lot of distress while looking in the mirror. 
Tear trough fillers are effective in treating dark circles and under-eye hollows. You can regain volume loss by injecting the dermal filler under the eyes. It can also lighten dark circles and fill wrinkles. Dermal fillers can improve skin quality by hydrating the skin from within and boosting collagen production. 
Tear Trough for Dark Circles and Eye Bags
Tear trough dermal fillers are an excellent treatment for dark circles, under-eye hollows, and eye bags. You may want to consider additional procedures if your eye bags are severe. 
Expected Results Following Dermal Injections
Reduced appearance of dark circles

Reduction in under-eye hollowness

Reduced appearance of under-eye bags or swelling

Refreshed, awake and rested appearance
Ideal Candidacy for Tear Trough Injectables
Mild to moderate under-eye hollowness

Reduction in the appearance of under-eye dark circles

Tired eyes

Not on any medicine that may cause bleeding
Best Dermal Filler Options for Tear Trough Correction
Choosing the right type of dermal filler consisting of hyaluronic acid depends on a wide array of factors, such as anatomical concerns, skin type, thickness, and skin texture. Restylane and Juvederm Volbella are the commonly preferred dermal injectables. 
Restylane
Restylane dermal filler is an FDA approved hyaluronic acid filler that makes use of the patented NASH technology for producing a smooth gel by cross-linking the hyaluronic acid molecules. The dermal injectable has a spreadable and fluid consistency making it ideal for the tear trough region.
Juvederm Volbella
The dermal filler is made using proprietary Vycross technology that lends it the ultra-creamy texture. It can be injected smoothly to deliver natural results. Volbella absorbs less tissue volume as compared to other fillers. This provides better tear trough results. The risk of under eye swelling is reduced as well with Juvederm Volbella. 
Cannula vs. Sharp Needle Technique
Cannulas contain a hollow bore needle with a more rounded blunt end. This can penetrate deep into the skin. Many medical spa providers prefer using cannulas for because of the reduced risk. Blunt needles are not as dangerous as sharp needles when injecting a tiny blood vessel. Cannulas can deposit the dermal filler without making many needle 'pokes' within the skin.
Board certified ophthalmologist and eye surgeon Dr. Tanya Khan receives patients from Plano, Dallas, Texas, and nearby areas for dermal filler injectables for tear troughs. 
Contact Khan Eyelid and Facial Aesthetics and Oculoplastic & Reconstructive Surgeon Dr. Tanya Khan Today to Schedule an Appointment
For more information about procedures and treatments at Khan Eyelid and Facial Aesthetics by Ophthalmic surgeon Dr. Tanya Khan. Click here to contact us.
Taking patients from in and around Dallas, Plano, Fort Worth, Grapevine, Garland, Mesquite, Carrollton, Irving, Frisco, Texas and more.