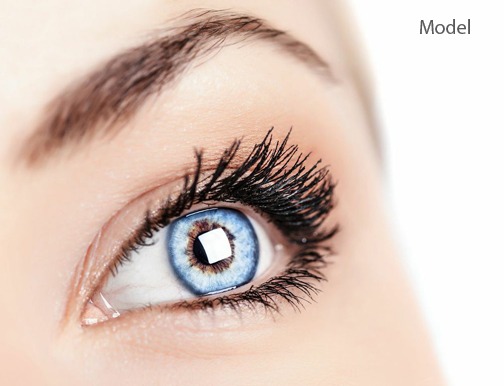 Upper blepharoplasty, commonly known as upper eyelid lift plastic surgery, enhances the appearance of droopy and tired looking upper lids. During the pre-operative consultation, your surgeon will assess the condition of eyes and upper lids and determine your candidacy.
The surgeon may also present upper eyelid surgery before and after photographs during the initial consultation. Oculoplastic & reconstructive surgeon Dr. Tanya Khan provides safe and proven eye care procedures to patients in Plano, Dallas, Texas, and surrounding locations.
What are Upper Eyelid Lift Before and After Images?
Upper blepharoplasty 'before and after' photographs refer to a pair or group of pictures of past patients who have undergone the same procedure with desirable results. These pictures are taken prior to the procedure and several days or weeks after the surgery when the post-surgical swelling and bruising have subsided, and full results of the procedure are visible. 
The surgeon will use these pictures only with the patient's consent and present them before new patients in a discreet and judicious manner. The surgeon's office will maintain confidentiality about the patient's identity as per protocol. 
The sole reason for using these images is to make sure that the prospective patient develops a clear understanding of what an upper eyelid surgery can or cannot do for them, and make a salient choice. 
Benefits
The face is the most visible and attractive area of the body from an aesthetic perspective. New patients are understandably concerned about any procedure related to a part of their face. The surgeon can use upper eyelid 'before and after' images to reassure a prospective patient on whether it is a suitable procedure for them. 
The amazing aspect of these images is that they are digital. Digital imagery took the world by storm and has been adopted by one industry after another and this one is no different. Patient after patient is impressed by digital images because these images offer clarity that previous technologies could never achieve no matter how much tending care they received. 
Some patients may require only a limited correction with an upper eyelid lift surgery while others may need both upper and lower eyelid surgery. In each case, the patient can make the right decision after viewing a full set of before and after pictures. 
Combining Photos with Text
It may be more useful for prospective patients if descriptive text detailing the procedure, the reasons for which it was performed, and how it addressed a patient's specific issues is displayed along with upper blepharoplasty before and after images. 
The surgeon can visually present the surgical journey of a previous patient with clear and accurate descriptions that accompany these photographs. This can be an integral part of online before and after photo galleries as patients can connect better with pictures while descriptions enable them to understand the related details correctly. 
Sharing Images to Raise Awareness
Surgeons can share upper eyelid surgery before and after photos to provide patients the best possible advice and create awareness about the benefits of upper eyelid surgery. They may share the images digitally in the following ways:
Website Galleries: Creating a dedicated before and after photo gallery section on the practice website which has been done by Dr. Khan with stellar acumen. 

Portfolios: Developing a picture portfolio to present it during initial consultation to prospective patients seeking the same procedure. 

Blog Posts: Adding images to a blog post is an optimal way to offer new patients visual documentation or procedure results.

Social Media Platforms: Images are a powerful to optimize social media post. But it is important to use discretion while posting on public forums. 
A well-presented before and after image gallery can educate patients about upper eyelid surgery as well as act as a promotional tool for the surgeon and their practice. It is a channel to display their skills and expertise while helping new patients develop realistic expectations about intricate plastic surgery procedures such as upper eyelid lift.
These images are so tremendous that a patient, you, can look at them and apply these digital images to their own face enabling you to predict the future. This allows anyone to make a more perspicacious decision based on their own predilections.
Your surgeon may prescribe pain medications for the first few days. Ophthalmologist Dr. Tanya Khan receives patients from Plano, Dallas, Texas, and nearby areas for advanced and effective eye care procedures.  
Contact Khan Eyelid and Facial Aesthetics and Oculoplastic & Reconstructive Surgeon Dr. Tanya Khan Today to Schedule an Appointment
For more information about procedures and treatments at Khan Eyelid and Facial Aesthetics by Ophthalmic surgeon Dr. Tanya Khan. Click here to contact us.
Taking patients from in and around Dallas, Plano, Fort Worth, Grapevine, Garland, Mesquite, Carrollton, Irving, Frisco, Texas and more.