Juvederm Filler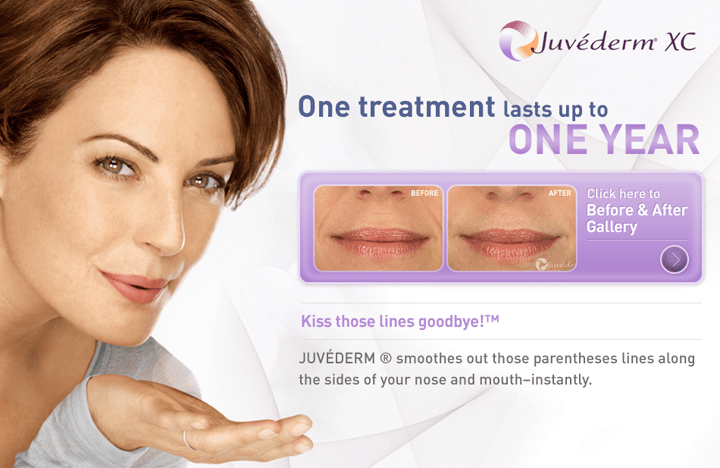 Juvederm contains hyaluronic acid (HA) which is a naturally occurring compound. The dermal filler is intended to refill and replace the quantity of HA in depleted areas. The type of Juvederm treatment you choose will depend on the severity of your folds, wrinkles, volume loss, and the location of the problem areas.
Khan Eyelid and Facial Aesthetics, led by oculoplastic and reconstructive surgeon Dr. Tanya Khan, provides Juvederm facial filler injections to patients in Plano, Dallas, Texas, and surrounding locations.
Juvederm Ultra XC
Lips can easily experience loss of volume, making the face look older. Patients can attain voluptuous and fuller looking lips regardless of their reasons with Juvederm Ultra XC. The dermal filler is an injectable gel meant for lip enhancement and perioral rejuvenation.
It naturally plumps the lips and eliminates the appearance of vertical lines on the lips. As per clinical trials, Juvederm Ultra XC showed considerable improvements in 79% of the subjects. The best part is that results can last for as long as a year.
Juvederm Ultra Plus XC
A slight enhancement may be all a patient needs while others may seek more dramatic results. Juvederm Ultra Plus XC may be exactly what you need when you want to make significant improvements to your lips. This is a denser filler injectable that is administered deep within the skin. It is more viscous than Juvederm Ultra XC creating better lift and adding more volume.
Juvederm Vollure XC
This dermal filler is used for addressing moderate to severe folds and wrinkles and for plumping the skin. The results can persist for as long as 10 months which makes the injectable more cost effective as compared to other dermal fillers of similar nature. Juvederm Vollure XC causes less inflammation and pain at the injection site.
Juvederm Volbella XC
Juvederm Volbella XC is FDA approved for adding volume to lips and surrounding areas. It is useful for plumping wrinkles and lip lines and maintains moisture with the presence of HA. The results can last for as long as a year. The injectable contains local anesthesia making it a comfortable treatment for adding volume to the lips.
Juvederm Voluma XC
Volume loss in several parts of the face is a natural process of aging. However, you don't have to suffer through sagging skin and depleted cheeks by sitting back. You can take steps to combat the natural process of aging. Juvederm Voluma XC is a form of medical spa injectable gel treatment. The injection is administered deep within the cheeks for plumping them out.
Volume is created underneath the skin surface. The injection offers a lift to the cheeks as well and results in the development of a younger looking definition. There have been reports of patients appearing up to five years younger with a single session of Juvederm Voluma XC. Results of Juvederm Voluma XC are known to last for up to two years.
In addition, patients seeking repeat treatments usually require lesser quantity of the product to attain successful results. Board certified ophthalmologist and eye surgeon Dr. Tanya Khan receives patients from Plano, Dallas, Texas, and nearby areas for Juvederm dermal filler injectable treatment.
Contact Khan Eyelid and Facial Aesthetics and Oculoplastic & Reconstructive Surgeon Dr. Tanya Khan Today to Schedule an Appointment
For more information about procedures and treatments at Khan Eyelid and Facial Aesthetics by Ophthalmic surgeon Dr. Tanya Khan. Click here to contact us.
Taking patients from in and around Dallas, Plano, Fort Worth, Grapevine, Garland, Mesquite, Carrollton, Irving, Frisco, Texas and more.