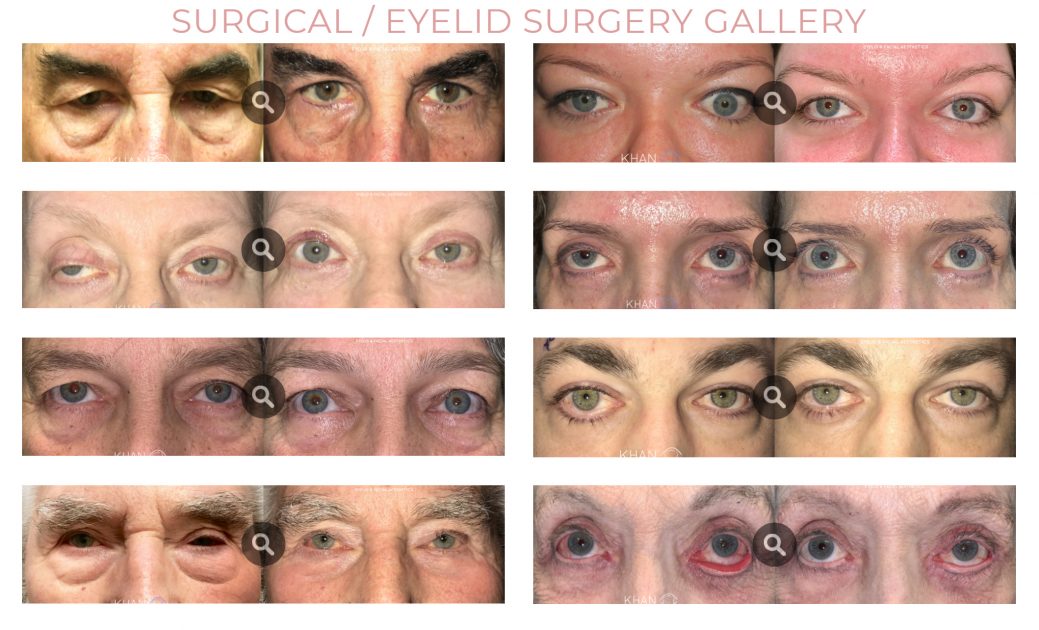 Signs of aging are usually first seen around the eyes. Lower blepharoplasty or a lower eyelid lift plastic surgery is popular for treating under eye bags and droopy upper lids. It can also help with other signs of aging that may develop as you age. This plastic surgery is relatively minor and can help you appear youthful and rejuvenated.
Your surgeon will show you before and after images of lower eyelid lift surgery at the time of the initial consultation. These pictures are useful towards creating an environment of transparency and trust. The photographs are useful to patients looking to make well-considered decisions after weighing the several pros and cons of the surgery.
You should proactively participate in the initial consultation and ask to review as many images as you possibly can for gaining a better understanding of the outcomes. Khan Eyelid and Facial Aesthetics, led by oculoplastic and reconstructive surgeon Dr. Tanya Khan, provides lower blepharoplasty to patients in Austin, Dallas, Texas, and surrounding communities.
Visual Evidence is Preferred
New patients always prefer visual evidence to verbal explanations. Patients feel more reassured and confident after looking at before and after pictures of lower eyelid lift surgery. Images can help patients attain greater understanding of the results. New patients can make educated decisions after looking at blepharoplasty before and after images.
Prospective patients believe that if the procedure helped correct concerns and reverse the signs of aging in other patients, then it would work on them as well. Lower eyelid surgery images are visual proof that help in fostering an environment of transparency and trust.
What's amazing about these images is that they can be seen anywhere. As long as you have WiFi you can see these images even from outer space or of course right down the street at your local diner. This means you can make a critical decision without anyone even knowing because even your friends and family are not all that friendly at times. There's some things we just want to keep close to home.
Pictures Explain In a Better Way
Lower eyelid lift plastic surgery before and after pictures are more effective at presenting the real story. They help patients understand exactly what the procedure can do for them. 'Before and after' images offer strong visual proof to patients. Words are sometimes open to interpretation and difficult to understand. However, it is important that surgeons don't modify or photoshop the images in any manner that is misleading to the patients.
Transparency is the key here and Dr. Kahn would not have a successful practice if she did not believe in that concept. Countless patients have been impressed with her candid and cordial approach and many of these people have turned out not to be patients. Either way, everyone is treated fairly here and given all the information they need to make a suitable decision based on their goals and situation.
Posting Images on Social Media to Increase Awareness
Social media is a popular internet trend. Plastic surgeons can make use of their mass appeal for raising public awareness about lower blepharoplasty surgery. Before and after images of the procedure can help in this case.
Facebook, YouTube, Instagram, and Pinterest are a few popular image-sharing forums. Treatment providers can make use of these to connect with their audience in a good way. Surgeons can engage with thousands of treatment seekers by using lower eyelid before and after images.
Set Reasonable Expectations
Images tend to offer conclusive proof in regards to the things that can be achieved by a surgery. It's certainly the case in the digital world because digital images are so clear anyone can apply what they see on the screen to their own eyes and face. It's imperative that patients set realistic goals and a positive outlook. This is vital for achieving successful results. This is why cosmetic surgeons try their best to help patients set reasonable expectations.
Lower eyelid surgery before and after pictures can help in settling doubts. Board certified ophthalmologist Dr. Tanya Khan receives patients from Austin, Dallas, Texas, and nearby areas for lower blepharoplasty.
Contact Khan Eyelid and Facial Aesthetics and
Oculoplastic & Reconstructive Surgeon Dr. Tanya Khan

Today to Schedule an Appointment

For more information about procedures and treatments at Khan Eyelid and Facial Aesthetics by Ophthalmic surgeon Dr. Tanya Khan. Click here to contact us.

Offices in Dallas, Plano and Austin, Texas.