Texas Ophthalmologist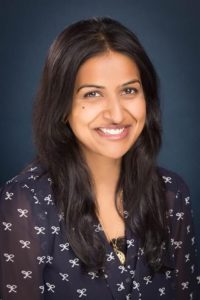 Dr. Tanya Khan was born in California and raised in New Jersey. She attended the renowned Columbia University in the City of New York where she pursued undergraduate studies in Neuroscience and Behavior.
The reliable Dr. Khan subsequently attended the Duke University School of Medicine for her medical training.
Dr. Khan completed a General Surgery internship at Duke University. After that, she pursued an Ophthalmology residency at the Louisiana State University and Ochsner Clinic Foundation followed by fellowship training in Oculoplastic and Reconstructive Surgery at Duke University.
Oculoplastic surgeon Dr. Tanya Khan provides eye care procedures to patients in Dallas, Plano, Texas and surrounding locations.
Dr. Khan's Expertise
As an accomplished eye doctor, Dr. Khan is an expert in the clinical and surgical management of orbit and eyelid conditions, such as the repair of blepharoptosis, blepharoplasty, trichiasis, ectropion, entropion, thyroid eye disease, benign essential blepharospasm, and hemifacial spasm.
Dr. Khan undertakes surgery to correct excess tearing caused by nasolacrimal obstruction, intricate oculofacial reconstruction to address defects from cancer excision or trauma, and the elimination of orbital tumors.
In addition, Dr. Khan offers non-invasive facial cosmetic augmentation through dermal fillers and botulinum toxin, chemical and laser skin resurfacing, and topical skin care.
In the course of her training, Dr. Khan's primary research interest included basic clinical and anatomical studies investigating vascular occlusion from facial filler and the role of neurotoxin to lacrimal gland in addressing epiphora.
She has first-authored nine peer-reviewed scientific publications and written two scientific book chapters to date. Dr. Khan has also presented her work at international and national ophthalmology and plastic surgery conferences.
A Highly Skilled Oculoplastic Surgeon
An oculoplastic surgeon specializes in ophthalmology and has completed one to two years of further fellowship training after ophthalmology residency.
Oculoplastic surgeons undertake procedures such as repair of tear duct impediments, correction of sagging eyelids (blepharoplasty), repair of orbital fractures, elimination of tumors in and around the eyes, and lid and facial reconstruction.
These surgeons begin their training after medical school and an internship with a residency in eye surgery or Ophthalmology. This training involves a thorough understanding of the anatomy of the eye, eyelids, and facial area surrounding the eye.
A vital element in Ophthalmology training is eye surgery. This is a complex surgery and warrants an exquisitely gentle hand. Certain sutures used in eye surgery are so fine that they float on slight breezes in the air when attempting to tie them.
Following Ophthalmology training, these doctors undergo fellowship training. As Ophthalmology involves very fine suturing, a targeted and careful touch is necessary when performing facial and eyelid surgery.
Specializing in Eye Care
Plastic surgeons are usually generalist in this regard and often treat multiple body areas. In comparison, an oculoplastic surgeon focuses on the face and around the eyes. They are considered specialists in this field.
Cosmetic surgeons and oculoplastic surgeons can both be outstanding specialists in their area. However, when it comes to eye-related procedures, an oculoplastic surgeon will be better positioned to use targeted, small, fine motions and cutting-edge surgical instruments to create desirable outcomes.
Ophthalmology training and oculoplastic fellowship provide these surgeons with finesses enabling them to develop successful results in delicate eye or eyelid surgeries.
Board certified ophthalmologist Dr. Tanya Khan receives patients from Dallas, Plano, Texas, and nearby areas for eye care treatments.
Contact Khan Eyelid and Facial Aesthetics and Oculoplastic & Reconstructive Surgeon Dr. Tanya Khan Today to Schedule an Appointment
For more information about procedures and treatments at Khan Eyelid and Facial Aesthetics by Ophthalmic surgeon Dr. Tanya Khan. Click here to contact us.
Taking patients from in and around Dallas, Plano, Fort Worth, Grapevine, Garland, Mesquite, Carrollton, Irving, Frisco, Texas and more.