Restylane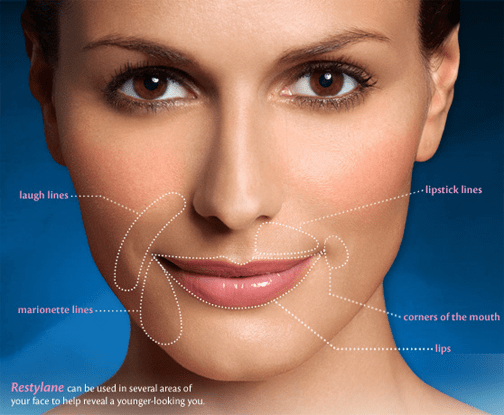 Restylane, developed from non-animal stabilized hyaluronic acid or NASHA, is a cosmetic facial filler injectable. This filler is available in gel form and doesn't contain animal products. The main component of Restylane is hyaluronic acid, which naturally occurs in our tissue and skin. Therefore, you will not need to undergo a prior allergy test.
Board certified ophthalmologist and eye surgeon Dr. Tanya Khan provides Restylane facial filler injections to patients in Plano, Dallas, Texas and surrounding locations.
Advantages of Restylane filler
Hyaluronic acid plays a pivotal role in our body by providing firmness and youthfulness to our skin. However, over time, this acid gets depleted as a result of aging and a variety of other factors. You can seek Restylane filler injection from a skilled treatment provider to restore the volume loss and revitalize your facial skin.
Restylane is biodegradable. Meaning, it will slowly disintegrate itself in your skin tissue. One Restylane injection will last for about 6 to 12 months. It can enhance your facial contours by decreasing folds, scars, wrinkles, and other minor impressions in your skin. Some of the functions of Restylane include:
Reduction of wrinkles in your face
Mitigating nasolabial folds

Volumizing your cheek hollows

Reducing your acne scars

Chin enhancement

Filling imperfections and depressions beneath your eyes
Softening the impact of your jowls

Lip definition and augmentation

Lifting your eyebrows

Minimizing the effect of marionette lines around your mouth corners, smile lines, worry lines, smoker's lines, and crow's feet around your eyes
Eye rejuvenation
Your face will appear dull and aged if you have dark circles or under-eye hollows. Restylane is medically proven and tested to address these skin imperfections. This FDA-approved dermal filler will restore youthfulness to give you a refreshed look, without any surgery. Since the filler can be molded into preferred shape, it is also useful in improving dark circles.
For this purpose, your treatment provider will place Restylane along the orbital rim in order to administer this filler. After the procedure, if you have any bumps or lumps appearing in the skin, your treatment provider will remove them. Restylane's viscosity will also enable them to work on your fragile under-eye skin.
Lip enhancement
Your lips and the lines around your mouth will indicate the signs of aging. As you age, your lips become thinner and will lose shape and definition. Also, there could be an increase in the vertical lines above your lip area. Restylane dermal filler can help you regain a refreshed and rejuvenated face.
Restylane Silk is the only FDA-approved treatment device developed for mild lip enhancement. The filler will also smooth your lines and wrinkles around your mouth. This is typically sought by people above 21 years of age. It will help restore your smile and create a desirable shape for your lips.
Oculoplastic and reconstructive surgeon Dr. Tanya Khan provides Restylane dermal filler injections to patients in Plano, Dallas, Texas, and nearby areas.
Contact Khan Eyelid and Facial Aesthetics and Oculoplastic & Reconstructive Surgeon Dr. Tanya Khan Today to Schedule an Appointment
For more information about procedures and treatments at Khan Eyelid and Facial Aesthetics by Ophthalmic surgeon Dr. Tanya Khan. Click here to contact us.
Taking patients from in and around Dallas, Plano, Fort Worth, Grapevine, Garland, Mesquite, Carrollton, Irving, Frisco, Texas and more.