Mole Removal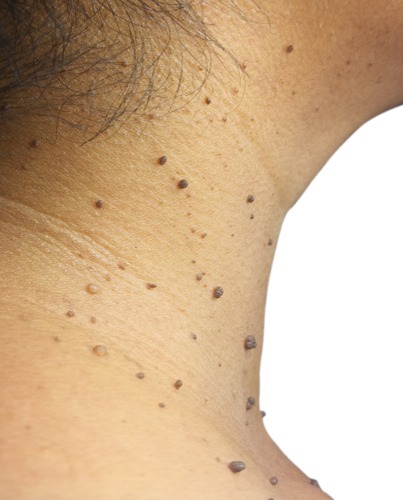 Moles and skin tags are one of the type skin imperfections that can occur at any time. While in most cases, these skin growths are harmless, they may cause cosmetic concerns to many people. Sometimes these abnormal skin growths may also appear on the eyelids. This can be quite conspicuous because eyes are one of the first facial features that others will notice.
The good news is that your eye surgeon can safely remove the skin tags and moles from your eyelids and restore a natural skin appearance. Board certified ophthalmologist Dr. Tanya Khan provides mole and skin tag removal from the eyelids and other parts of the face and body to patients in Plano, Dallas, Texas, and surrounding communities.
Characteristics of Moles
Moles can significantly vary in shape and size, ranging from tiny dots to large spots on any part of your body, face, or eyelids. A mole could be flush with skin tissue or elevated. In most cases, the mole will be of a darker shade than your natural skin color. Moles develop when melanin pigment (which provides color to your skin) accumulates in a particular area.
Moles on your eyelids may be black, brown, blue-gray, or yellow in color. In rare cases, moles can also be malignant. If you notice any change in the color, shape, or size of the mole on your eyelid or in another part of the face or body, it could be a sign of malignancy. A skillful eye surgeon can remove both cancerous and benign moles from your eyelids in a safe and precise manner.
Characteristics of Skin Tags
Skin tags are tiny, oval-shaped growths that will protrude outward from your eyelid skin (or facial skin). These outgrowths are soft and harmless, and may commonly occur in the eyelid area because the skin frequently rubs or folds together in that area.
Skin tags may be slightly darker than your skin tone, or very similar to it. When they appear on your eyelids, they may not cause discomfort or pain, but may get irritated if you rub clothing or makeup over them. Cause of these abnormal skin growths remains unknown.
How to
remove moles and skin tags from eyelids
?
During your initial consultation, your eye specialist will explain to you the best treatment options for the removal of a mole or skin tag from your eyelid. Excision surgery, punch biopsy, and shaving off the mole or skin tag are some of the options available to your surgeon for their removal.
Your surgeon will apply a numbing agent to ensure that you remain completely comfortable while the mole or skin is removed from your eyelid. Radiofrequency technology and laser are also safe and effective ways to eliminate moles and skin tags. In the delicate eyelid area, your surgeon will select the safest and most effective treatment option for their removal.
Full excision, shave excision, or non-surgical mole and skin tag removal techniques can be performed at your surgeon's office on an outpatient basis. It will take less than 30 minutes to complete the procedure. Oculoplastic and reconstructive surgeon Dr. Tanya Khan receives patients from Plano Dallas, Texas, and nearby areas for mole and skin tag removal from the eyelids.
Contact Khan Eyelid and Facial Aesthetics and Oculoplastic & Reconstructive Surgeon Dr. Tanya Khan Today to Schedule an Appointment
For more information about procedures and treatments at Khan Eyelid and Facial Aesthetics by Ophthalmic surgeon Dr. Tanya Khan. Click here to contact us.
Taking patients from in and around Dallas, Plano, Fort Worth, Grapevine, Garland, Mesquite, Carrollton, Irving, Frisco, Texas and more.